William Kautzman's regionalism roots with Thomas Hart Benton as his teacher in Kansas City Missouri area are undeniable influences for the artist. Benton's instrumental instruction at the Kansas City Art Institute would become emblematic, living vicariously through Kautzman's prints, drawings, and paintings as it did through many of Benton's students. The depression era, cultural, and transportation ever-changing dynamics of the mid-20th Century would live to tell another day through regionalism art.
Kautzman's Childhood and Family Life
William Fredrick Kautzman's (1916-2018) paternal grandfather was born in Alsace-Lorraine, France, of German descent, and immigrated to Springfield, Illinois, by 1866. In 1871, he moved his family to Jackson County in Kansas City, Missouri with young Charles E. Kautzman (1866-1949). William Fredrick Kautzman was born in Kansas City, Missouri, on December 21, 1916.
Kautzman's father, Charles, was a heavy construction worker, working on buildings and roads. Despite his hard work, the family could never afford to live in their own home, always renting and never living in the same place for more than three or four years. Nevertheless, the parents succeeded in keeping their six children.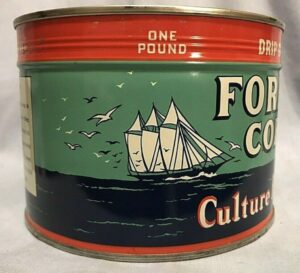 William Fredrick Kautzman's first artistic milestone arrived at the early age of 14 while attending Grandview Consolidated High School. In 1930, during the throes of the Great Depression, the Jas H. Forbes Tea & Coffee Company, based in St. Louis, Missouri sent out flyers to the Missouri school districts announcing a state-wide art contest for drawings by students of old sailing ships. The respected St. Louis company's trademark was a three-masted schooner with all sails set upon the ocean. Kautzman's seventh-grade teacher urged him to enter the contest. The artist won first place, earning him a twenty-dollar gold piece, the equivalent of more than $2,000 (by the year 2020 standards).
In 1936, Kautzman graduated from East High School (KCMO) and began working for the Fred Wolferman Grocery Company in downtown Kansas City, Missouri. While working at the grocer, he painted show cards that were used for display in the four area Wolferman stores. It was also during this time that Kautzman became reacquainted with a former high school friend, Harrison Hilfinger (1917-2011). In 1939, Hilfinger introduced Kautzman to ESO-S Pictures, a company Hilfinger had started in 1935, one of the first full-service home movie stores in the country. Occasionally, Kautzman would assist with small projects to help with the costs of living.
Kautzman Begins Taking Art Courses at Kansas City Art Institute with Thomas Hart Benton
By 1939, Kautzman managed to save enough money to attend drawing classes in the evenings at the Kansas City Art Institute (KCAI) from the esteemed regionalist Thomas Hart Benton (1889-1975). The influential artist had left New York City in September 1935 to teach at KCAI. Kautzman, like many other artists of the time, was captivated, motivated, and inspired by Benton's art skills and personality. Notable artists also attending courses while Kautzman was a student include Roger Norman Medearis (1920-2001), Jackson Lee Nesbitt (1913-2008), James Duard Marshall (1914-2010), William Wind McKim (1916-1995), Earl Fred Bennett (1919-2007), and Kenneth Pauling Riley (1919-2015), all of which he considered personal friends.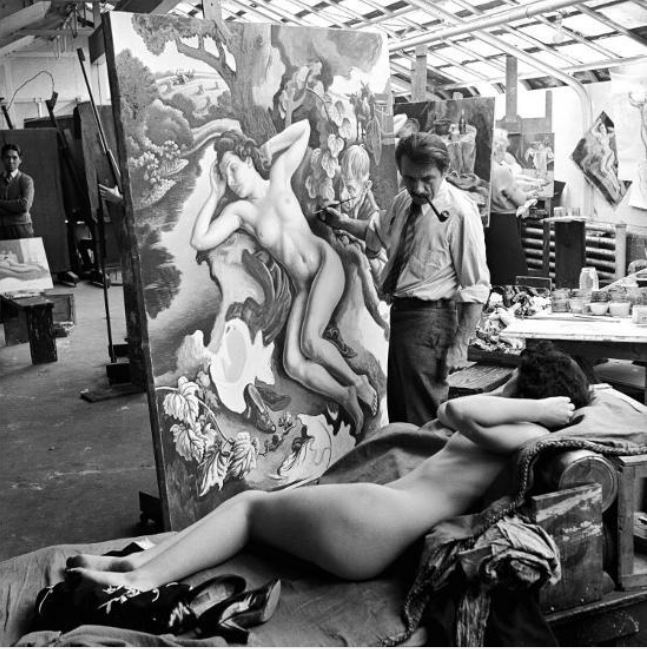 In 1940, Kautzman had saved enough money to attend day classes at KCAI from Benton and left his full-time position with the downtown Kansas City Grocer. His parents were supportive of his artistic pursuits, providing a little room upstairs as a studio and allowing him to live at home while attending classes.
Earl Fred Bennett sometimes stayed overnight with the Kautzman family. Kautzman attended classes Benton taught, sometimes in conjunction with his assistant Joseph John Paul Meert (1905-1990), both day and night. Kautzman also attended a drawing class by Ross Eugene Brought (1898-1983) and several printmaking classes with John Stockton De Martelly (1903-1979), where he would learn how to create stone lithographs while at the Kansas City Art Institute.
During Kautzman's period at KCAI, Benton once critiqued a portrait of Charles E. Kautzman painted by the younger Kautzman stating, "That sure is a remarkable piece of painting." Benton would later provide a contact for Kautzman to obtain work-study through KCAI so that he could continue his art studies through financial hardship, but the position never materialized. Benton's interest in him instilled confidence and optimism in his artistic path.
Kautzman intended on going to school for several years, but that ended abruptly in 1941 when Benton was fired from KCAI derogatory statements about the LBGTQ community at KCAI. In response, Kautzman used his earlier experience in show cards to create signs protesting the firing of their favored instructor for him and his artist peers in Kansas City. This event at the famed art institute would be the end of Kautzman's formal art education.
Dynamics in Kansas City and the World Begin to Change
In the late summer/early fall of 1941, Kautzman received a summons to report for an initial medical screening for the Army draft. Kautzman had a few shortcomings, one of which was his nearsightedness, which caused him to be placed on a limited duty list, which likely prevented him from serving in the military war-time effort. Nevertheless, he could still remember the announcement of the bombing of Pearl Harbor on December 7, 1941, coming over the radio.
Hilfinger, whom Kautzman would assist with making amateur films (Midnight Fantasy, circa 1945) with at ESO-S Pictures, recommended him for a full-time position with the Calvin Company. The Calvin Company (1931-1982) was based in Kansas City specializing in sound for industry and educational films. The company had been awarded a United States Federal contract to produce 16 mm films to train the U.S. Navy. The Kansas City film company wasted no time in hiring Kautzman by referral from his high school friend. Shortly after, he advanced his position, becoming the laboratory supervisor for the film company. On December 31, 1944, soon after Kautzman had become engaged to Mildred, a fellow co-worker, they were fired by management as co-workers were not allowed to date.
Kautzman then took a job with Pratt & Whitney Aircraft Engine Plant in Kansas City as a cylinder-head inspector.  The plant had been built and dedicated a few years before in 1942, by then-Senator Harry S. Truman, as a response to the War (time) Production board to manufacture Double Wasp engines during World War II.
Kautzman Continues Painting
Never forgetting his passion for art, Kautzman included one of his recent tempera paintings Thief in the Corn, in the 1945 Fifth Annual Missouri Exhibition that was exhibited at the City Art Museum of St Louis, now the St Louis Art Museum. The painting continued to the Nelson-Atkins Gallery of Kanas City, now the Nelson Atkins Museum of Art, in 1946. Also, in 1945, the portrait painting of his father that Benton had previously critiqued was displayed at the San Francisco Conference of the United Nations. At the time, Kautzman was living at 3921 Forest Avenue, Kansas City, Missouri.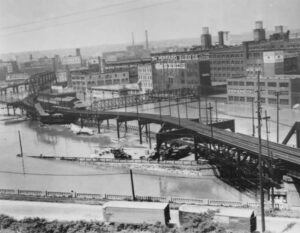 After the wartime efforts slowed, Kautzman went to work as an artist for Hallmark Cards in Kansas City. He produced one of their all-time, best-selling Christmas cards in the 1940s. By 1950, the card company was selling an estimated 3 billion cards annually. In 1950, Kautzman's Hallmark team released the famous script font Hallmark name and the five-pointed crown, which would be formally implemented throughout the company over the next few years. After leaving Hallmark Cards, his experience and reputation as an artist and designer led to several advertising studio positions in Kansas City.
The 1950s were tough and would usher in major changes for Kansas City. The Great Flood of 1951 destroyed the West Bottoms and cattle Stockyards. The Post-Korean War Recession (1953-1954) reduced government spending. Airline travel and advancements of the automobile replaced railroad travel and commerce. These changes decentralized the Union Station and stockyards, giving way to highways and resulting in urban decay.
Then Dwight Eisenhower's Recession (1957-1958) ushered in a higher unemployment rate and lowered federal spending even more. At the time, federal contracts were a large part of the Kansas City economy. On May 20, 1957, a deadly tornado struck Ruskin Heights in Jackson County. Many significant businesses, homes, and schools were destroyed, killing 37 people. It would take more than a year for the town to develop a plan to revitalize the area. The Asian flu (H2N2) pandemic (1957-1958) would further undermine the local and national economies.
Kautzman Moves His Family to Nashville Tennessee to Start Anew
In the summer of 1958, the prolonged downturn in the Kansas City economy and an inconsistent job outlook resulted in Kautzman moving his family to Nashville, Tennessee, where he had been hired by the Baptist Sunday School Board, known today as Lifeway Christian Resources. As the advertising director, the artist would create artwork, perform layouts, and design their bookstore sales catalog and publications.
Kautzman would go on to receive Certificates of Merit from the Art Directors Club of Nashville in 1963 and again in 1967. Then he was awarded the Exceptional Merit from the Baptist Public Relations Association in 1973 for his work at Lifeway Christian Resources. In 1978, Kautzman retired at the age of 62 from Lifeway Christian Resources, noting that he found the position to be extremely rewarding.
Kautzman Reignites His Regionalism Paintings from Thomas Hart Benton's Lessons
As a member of the Tennessee Art League, Kautzman redirected his focus and continued to paint in his newfound spare time. The 1980s were to become a prolific period of painting activity for the regionalist. In 1980, The Dropped Penny painting was hung in the Century III exhibition earning the purchase award, now held in the permanent collection of the Parthenon in Nashville, Tennessee. This same year, he won the George C Dury award in the 1980 Central South exhibit in Nashville for the painting Genesis. The following year, Genesis also garnered him 2nd place in the naturalism category at the Exhibition South in Tuscumbia, Alabama. Then, in 1981, Kautzman would win the Pastel Anonymous Award for a self-portrait of his painting titled Mirror Image: The Nearest Available Model.
Continuing his retirement-era painting, Kautzman won 3rd place Honorable Mention at the Tennessee All-State Exhibit for the painting Rest Stop in 1982. The artist exhibited again at Central South, winning the Grumbacker Award for the painting Backyard Still Life with Apple. The Central South Art Exhibition proved to be an extremely rewarding exhibition event for the artist, receiving awards and recognition in 1985, 1986, and two both in 1988, and 1989. In 1988, the Tennessee Art League held a one-man show of Kautzman's art, where he would later be named an honorary lifetime member.
Lithograph Inspiration from Nesbitt
Jackson Lee Nesbitt's recent work in lithography, most notably Auction Barn, Calhoun Street, and The Mathew W. Johnston Family composed in 1989-1990, were likely strong inspirations for Kautzman. Taking a break from painting in 1991, Kautzman would develop a series of five stone lithograph prints, based largely on prior painting and drawing compositions. The lithograph prints by Nesbitt were published by master printer Wayne Kline (1949-2005) at Rolling Stone Press in Atlanta, Georgia. These prints can be identified largely by the press's consistent double-blind stamp and pencil-inscribed dates on their backsides. Kautzman would follow Nesbitt's path and have his prints produced by Kline as well. The compositions titled In the Studio (self-portrait), Thief in the Corn, Evening Chore, Jarius' Daughter, and Posting the Letter, all feature Thomas Hart Benton's regionalist style and instructional emphasis on arranging the subjects to improve the painting's composition.
In 1993, Kansas City's renowned art dealer of the 20th Century, Jack W. Olsen (1939-2020) of Legacy Art Gallery, would exhibit works by Kautzman and other artists found in the book Under the Influence: The Students of Thomas Hart Benton. The gallery opened in conjunction with the Albrecht-Kemper Museum of Art publication of the book authored by Dr. Marianne Berardi, and her husband and Thomas Hart Benton authenticator, Dr. Henry Adams. The book and the subsequent gallery opening in Kansas City led to several articles featuring Kautzman in the Journal of Print World.
Kautzman's Final Days and Legacy as an Artist
Kautzman stopped painting in 2002 but continued to complete his last drawing of an owl in 2007, at the age of 91. Kautzman's eyesight had deteriorated, and his hands were too shaky to continue competent compositions. Overall, it is believed that Kautzman produced more than 450 artworks in his lifetime. In 2018, artist William Fredrick Kautzman passed away at 102 years of age.
Since Kautzman's passing, no dealers or auction houses have had the luxury of offering any paintings by the regionalist artist. However, most of his works are owned by private collectors, instead of museums, and are wildly cherished by their owners. Many of his paintings hold the traditional compositions of Thomas Hart Benton, much like his peers, particularly the less whimsical and humorous side of Roger Norman Medearis' art.
If you or your family, estate, or trust owns a regionalist painting composed in the regionalism style by a noted artist and wish to have it appraised, consider contacting Art of Estates personal property appraisal firm. We provide certified and signed appraisal reports for insurance coverage to qualified non-cash charitable contribution donation appraisals with a signed IRS 8283 form for our clients.