New York-based, Tom Otterness is one of America's most prolific artists. Upon walking through the campus of Wichita State University or entering the 14th Street subway station in New York City, a viewer will be confronted by cartoonish art figures and animals that assume a variety of poses and occupations. These at times comical and at other times politically and socially critical figures are born from the creative mind of New York artist Tom Otterness. Otterness has filled the world in his time as an artist with his unique vision, and his pieces have captivated and inspired many art collectors, museum attendees, and casual onlookers.
The Artist is a Prolific American Sculptor Working in New York
Tom Otterness has graced cities, parks, and universities throughout the United States with his public sculptures. The artist primarily creates sculptures out of cast plaster or bronze. His sculptures often feature a whimsical style of representation. Many of his figures are sculpted to be large, balloon-like, and cartoonish. The comical figures are often-times involved in some activity or motion. This cheerful façade, however, does not fully describe the concept behind the artist's work. Underneath the cartoonish nature of his figures lies a biting political commentary on the dangers of corporate capitalism.
Many of his works feature commentary on class, race, money, and sex. The artist is often highly critical of the structures of our society today and the ways in which certain groups control others. The artist has stated that his sculptures feature a simple language of cartoons and smiley, button faces. Otterness states he does this because he does not want to throw viewers off with complicated aesthetics that are difficult to comprehend, thus making his message clearer to the viewer. The artist has completed many public commissions, including quite notable ones such as Life Underground, 2004 in tandem with the New York Metropolitan Transportation Agency.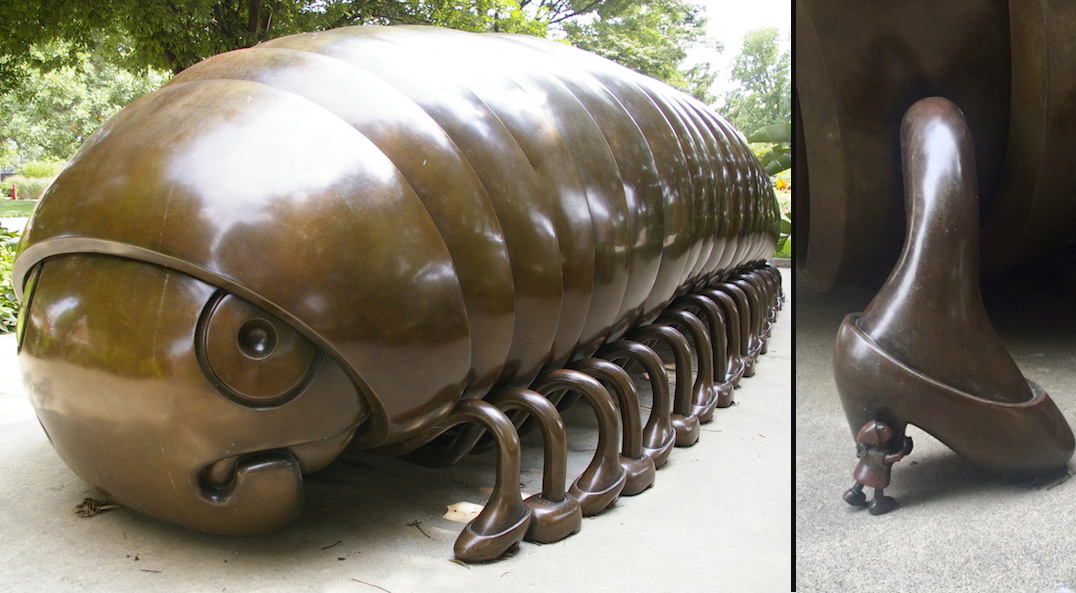 Otterness' Life Begins in the Midwest Before He Travels East
Tom Otterness was born in Wichita, Kansas in 1952. The artist came to New York City in 1970 where he studied at the Art Students League of New York, a well-known atelier providing students direction in classical forms of drawing, painting, sculpture, printmaking, welding, and assemblage. Following that, in 1973, the artist enrolled in the highly prestigious Whitney Independent Study Program.
The Artist Joins Avant-Garde Movements in New York City
In 1977 Otterness became a member of Collaborative Projects. Collaborate Projects Inc or Colab for short formed in 1977 after a group of meetings between artists from various backgrounds. The group was highly committed to social and political causes when it was founded in the difficult period of the late 1970s. The artists took inspiration from the realms of anarchist ideas, and the group included a highly diverse group of artists from around New York. Colab hosted numerous exhibitions throughout 1979 and 1980. These include the Income and Wealth Show, 1979, Doctors & Dentists Show, 1979, The Manifesto Show, 1979, The Dog Show, 1979, The Real Estate Show, 1980, and The Times Square Show in June of 1980. It was within his association with the Colab group that Otterness began working in the realm of experimental filmmaking in the mid to late 1970s.
Otterness first began making a profit off the production of his work in 1979 by selling plaster figures at Artists Space during the Christmas season of 1979. After this, he began making small monuments to sell at a show in Times Square in 1980.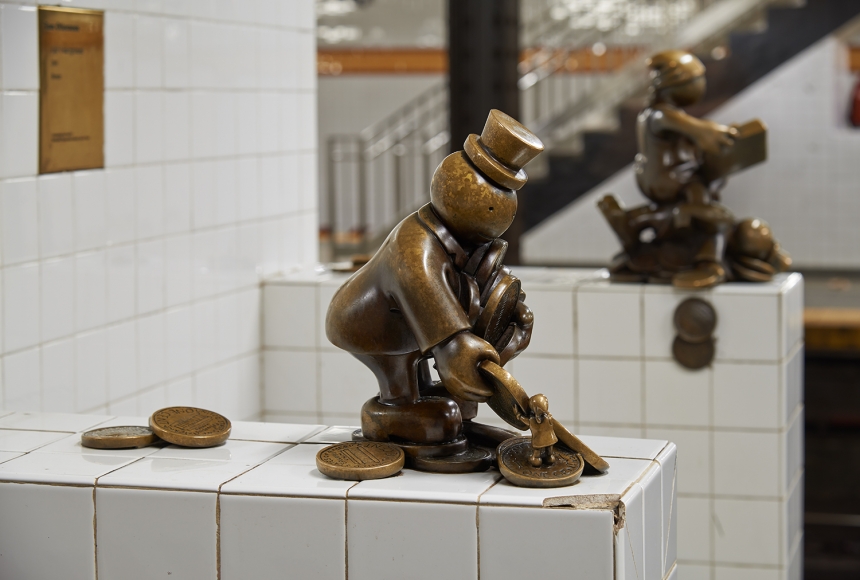 With Time Otterness Gains Recognition as a Sculptor in New York
The artist held his first solo exhibition at Brooke Alexander Gallery in New York City in 1983. It was at this show that he received his first public recognition. The show depicted a frieze of white plaster scenes of love and war between the sexes. The artist's work had evolved from his original iterations of pedestal-mounted figures into the rounded, cartoon style, comical figures that were to define the artist's most well-known sculptures. The assemblages that the artist made for the show were mounted above doorways and on top of walls.

The artist made his break into a major museum show in 1987, with his work The Tables at the Museum of Modern Art's "Projects" show. In this work, Otterness depicted a series of figures on four bronze tables in the sculpture garden of the museum.
The Artist Unveils a Major Project with Wichita State University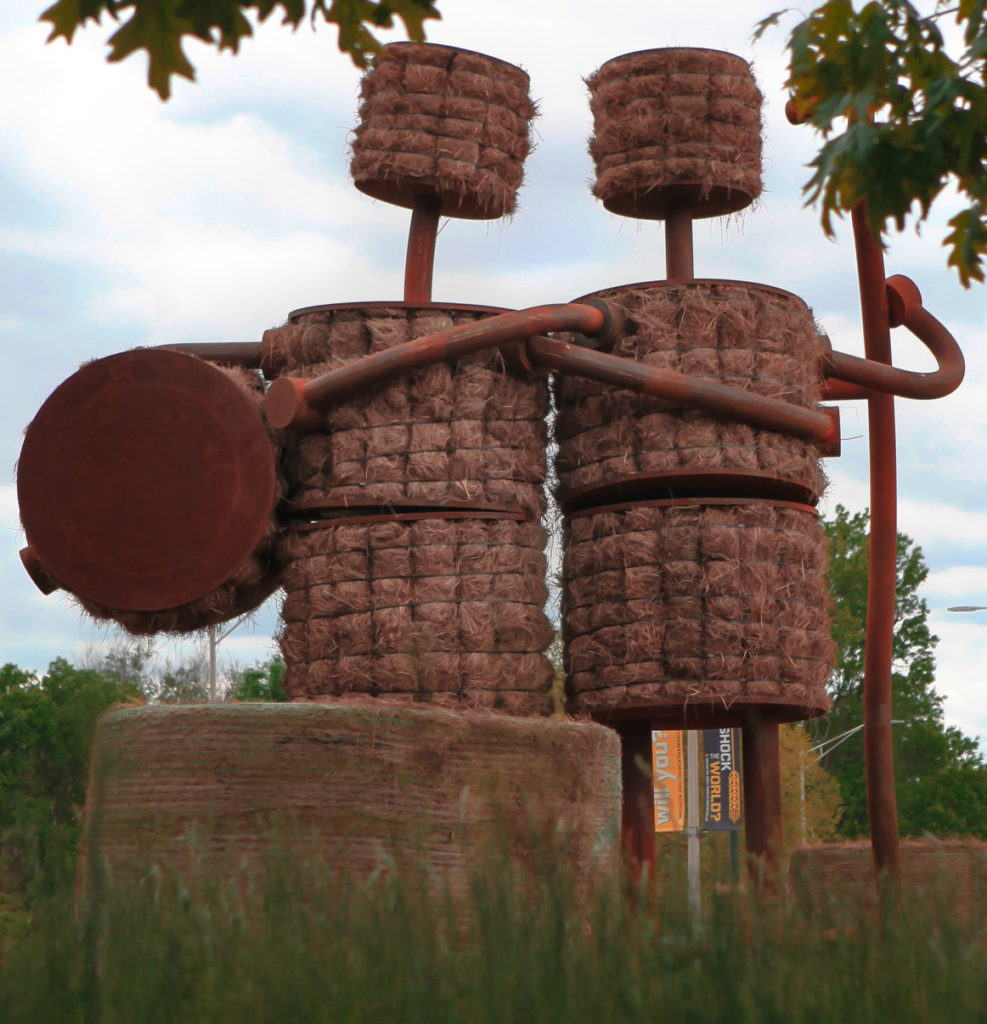 On May 12, 2019, the Ulrich Museum of Art at Wichita State University dedicated a new sixteen-foot-high sculpture by Tom Otterness. The sculpture is known as "Shockers" and features two figures standing side by side. One figure is holding a scythe. The figures look over a field of real hay bales. The sculpture was made in reaction to another work by the artist known as "Makin' Hay." "Makin' Hay" currently resides in Utica, Montana.
The sculpture depicts a figure bending down, grabbing a large cylinder which represents a bale of hay. Another figure stands in the distance, with two bales of hay, one underneath its arm and the other perched on its shoulder. A third figure stands holding a tool used in the harvesting of hay. Makin' Hay resided at Wichita State University for two years. Shockers was commissioned by Adam Beren and his sisters Amy Bressman and Julie Platt. The commissioning was done to honor their mother, Joan S. Beren, a patron of the arts at Wichita State University. Ms. Beren was an ardent supporter of the fine arts at the university. She donated to support the maintenance of Wichita State's outdoor sculptures. She also assisted financially with the restoration of a Joan Miro mosaic on the face of the Ulrich Museum of Art as well as commissioning another Tom Otterness sculpture; "Millipede" for the university.
The Artist is Featured as Part of the Public Art Collection of Indianapolis
Tom Otterness was featured in Indianapolis, Indiana as part of an exhibit in which twenty-five of his works were displayed in 2005. The exhibit featured many designs by the artist. These include a sculpture of a figure riding on a covered wagon being pulled by a bull, as well as "Free Money", which depicts two figures dancing on a bag of money while two smaller figures- a female tourist and a male tourist look at them, one holding a camera and the other holding three suitcases. The "Free Money" sculptor was so loved by the Hoosier city that from 2006 – 2007 an effort led by Myrta Pulliam and Maribeth Smith was started to re-purchase the works. With the money made from private donations, Indianapolis was able to re-acquire the pieces, and the works were displayed downtown. There was a slight delay between the acquisition of the pieces and their installation because the council who bought the pieces was not initially certain of where the sculptures would be installed.
Otterness has Created Public Sculpture Playgrounds
The artist is also well known for his public sculptures which take on the form of playgrounds. These playgrounds are installed throughout the United States, but many are featured in New York. One of these playgrounds is known as the Silver Towers Playground or Tom Otterness Playground in New York City. The playground features a large sitting sculpture with bent legs. The figure's legs and one of its arms are large slides. The figure's neck is also a gated lookout area. The bottom of the slides is raised somewhat high off of the ground.
A similar figure with slide limbs resides in Colorado. This sculpture features a bent torso with another lookout area for a neck. Below the neck, one can climb upwards on a ladder formation that reaches toward the ground and finally connects to the head at the top. The upper leg features a staircase that goes up to its knees at which point the leg turns into a slide. A small swing set hangs off the bottom of the knee area.
Tom Otterness is Collected by Many Museums Around the World
The artist has works in many collections including the Museum of Modern Art, Whitney Museum of American Art, Eli Broad Family Foundation, Brooklyn Museum, San Francisco Museum of Modern Art, Carnegie Museum, Delaware Art Museum, Gateway Foundation, Miami Art Museum, Miyagi Museum of Art, Solomon R. Guggenheim Museum, and Nassau County Museum of Art. He is currently represented by Marlborough Gallery in New York, New York.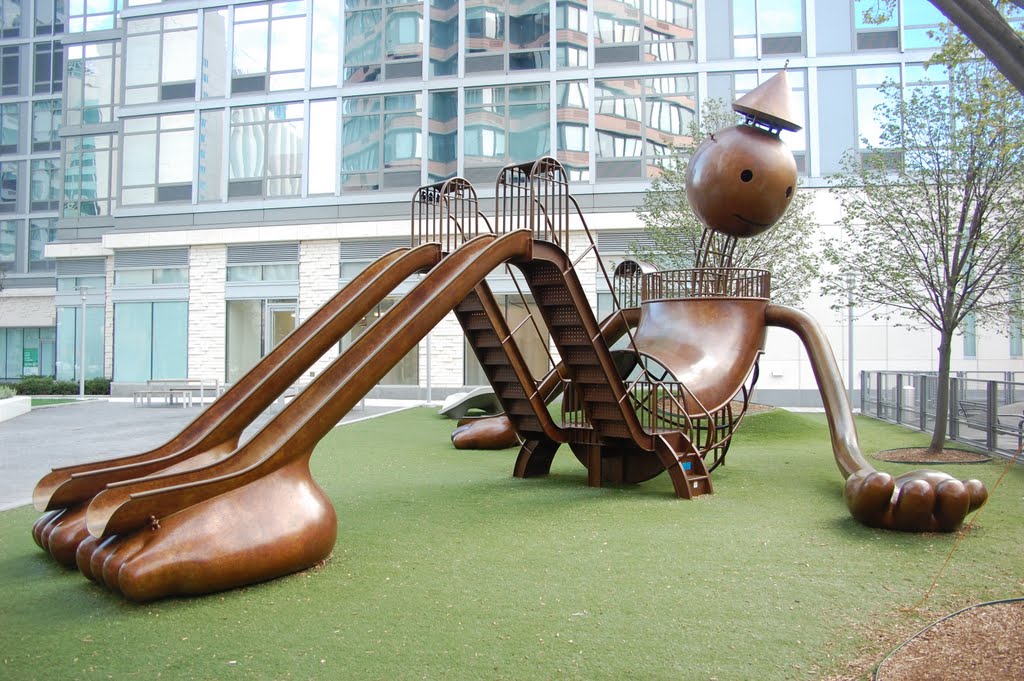 Otterness Unveiling Featured at the Ulrich Museum of Art
The Ulrich Museum of Art hosted The Biennial Benefit and among the celebration of the year's new acquisitions for the Ulrich Museum of Art was the previously mentioned Tom Otterness piece "Shockers." The collection, which provides a guide for viewing the art across the Wichita State University campus, also features work by Robert Indiana, Louise Nevelson, Claes Oldenburg, Henry Spencer Moore, Fernando Botero, Diane Barbara Hepworth, Aristide Maillol, Kenneth Armitage, and George Warren Rickey.
Robert Indiana is an important figure in American art known for his paintings of signs that addresses the American identity. The artist is identified as a Pop Artist and is well known for his postcard for the Museum of Modern Art's Christmas card in 1964. The image, the word "Love" with the letters stacked on one another, went on to become a pop culture icon.
Louis Nevelson was a notable American sculptor who was born in the Russian Empire in 1899. She became well known for her large and overwhelming monochromatic sculptures. She attended the Art Students League of New York.
Claes Oldenburg is an American sculptor who is known for producing public art installations featuring everyday objects as well as his trademark "soft sculpture." Soft Sculpture depicts everyday objects but in what seems to be an inflated balloon, featuring soft edges.
Henry Spencer Moore is an English artist who is known for his semi-abstract works. Many of his works feature figurative forms. Fernando Botero is a Colombian figure painter and sculptor. His works feature people with large, exaggerated forms.
Diane Barbara Hepworth was a British sculptor who works with simplified forms and abstract shapes. The artist worked in wood and stone. Aristide Maillol was a French artist whose most notable works were done in stone. Many of his sculptures feature female figures. Kenneth Armitage is also a British sculptor who was well known for his semi-figural abstract sculptures.
George Warren Rickey was an American kinetic sculptor who was best known for his works in steel. The Ulrich Museum's extensive collection is certainly a gift for the state of Kansas and the city of Wichita.
Sculpture as a whole, whether bronze, steel, or another media form is a boundless field including many notable artists. If you have a sculpture in your collection that you're interested in having appraised by a certified appraiser, contact Art of Estates by calling or sending photos and information through our Online Appraisal form to begin the process. Art of Estates performs art appraisal for a variety of sculptures from many time periods and regions of the world.