Birger Sandzén is a noted Swedish artist who emerges as an important painter of the Western landscape in both Kansas and Colorado in the early to mid-20th century. The artist is remembered for his oil paintings of the Kansas landscape as well as the Colorado Rockies amongst a plethora of other Western scenes from California, Utah, New Mexico, and even Mexico. Some have even associated Sandzén with an art master, calling him "America's Van Gogh."
The Artist had Trained from a Young Age in Sweden and Paris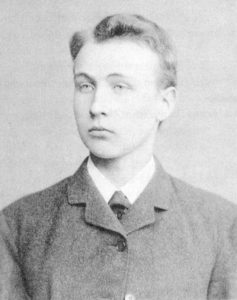 Sandzén was born in Blidsberg, Sweden, in 1871. While he is young, he has a great love of the outdoors, an aspect of him that he will later attribute to his Swedish heritage. The artist grows up in a culturally appreciative family and has his first artistic training with Gustaf Lundblad, an artist who worked with Sandzén's father. The young Sandzén was also highly talented in the scientific field as a child, having excelled in botany as well as having a large collection of pebbles and butterflies.
The artist's early work is within the aesthetic of Scandinavian Romanticism. Sandzén's father was a Lutheran minister. He receives training from a young age at the College of Skara in Sweden and later at the University of Lund. It is at the University of Lund that the artist originally intends to pursue a more academic route, but he soon realizes his innate desire to be an artist, prompting him to leave after just one semester.
From there the artist travels to Stockholm to study art. Sandzén is excited to study at the Royal Academy in Stockholm but is dismayed to find that the university is full and has a long list of waiting applicants.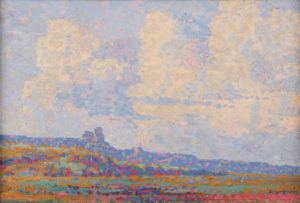 He then proceeds to study painting at the Artists' League of Stockholm, a new institution – where he learns from the famous Swedish painter Anders Leonard Zorn. Upon finishing his studies in Sweden, Sandzén moves to Paris where he begins studying with French painter Edmond-Francois Aman-Jean. Aman-Jean has already succeeded in winning many prizes in prestigious galleries throughout Europe as well as L 'Ecole des Beaux-Arts. Aman-Jean's studio mate is none other than Georges Seurat, a great pointillist painter. It is here that Sandzén begins using pointillism techniques in his paintings. Sandzén at times felt life was difficult as a young artist in Paris. .He commented in a letter to his father in 1892,
"I have some difficulties again with my affairs this term, and I have done what I could to raise some money. I hope that the situation will soon take a change for the better. Although it already seems as if the life of an artist is difficult and trying, I cannot but believe that it is God's will that I go this path." – Birger Sandzén, an Illustrated Biography page 11.
Sandzén Comes to America to Teach at Bethany College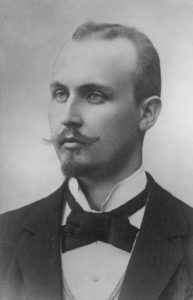 In 1894 Sandzén read a book titled "I Sverige" by Dr. Carl Aaron Swensson. The book details Dr. Swensson's struggles as a college president on the plains of Kansas, and at the end, he makes a challenge to other Swedes to help him. Sandzén eagerly contacts Dr. Swensson and applies for a job with the college. Upon doing this, he shortly receives a letter from the college's founder, "come at once." Sandzén is offered a position as a professor at the newly founded Bethany College in Lindsborg, Kansas. He immigrates to the United States in 1894, coming to Lindsborg to teach art, voice, and language. He will work at the college until 1946, all the while creating paintings and prints prolifically. Sandzén will eventually go on to become the head of the department of art at the college. As a professor, Sandzén encourages individualism amongst his students and is against the idea of a strict formula for producing paintings.
Taos Society of Artists Show Unique Fondness to Sandzén and His Artworks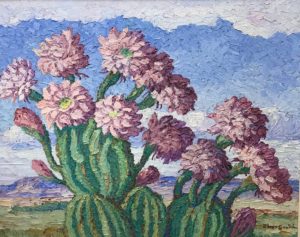 On July 19, 1915, the Taos Society of Artists was formed by Joseph Henry Sharp, Eanger Irving Couse, Oscar Edmund Berninghaus, William Herbert Dunton, Ernest Leonard Blumenschein, and Bert Geer Phillips. Despite the coveted society's selective requirements that lead to a few being accepted, they had an associate honorary sub-category of artists. In 1918 Sandzén began this association with Santa Fe and the famous artist colony at Taos, New Mexico. By this time, notable artists Victor Higgins, Walter Ufer, John Sloan, and the only female in the society, Catharine Carter Critcher. Sandzén eventually exhibited with the Taos Society of Artists in 1922. Unfortunately, Sandzén would not have another opportunity to exhibit with the Tao Society, dissolving just a few years later in 1927.
Coy Avon Seward and Birger Sandzén Organize a Print Group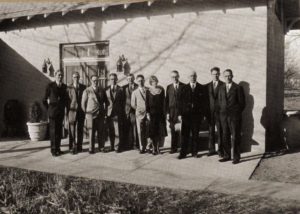 On December 28, 1930, Coy Avon Seward invites Norma Bassett Hall, Charles Capps, and seven other regional print artists to Birger Sandzén's art studio officially establishing the heralded Prairie Print Makers. These ten artists that were involved in creating the society that day are known as the charter members. The Prairie Print Makers toured as the Mid-America Arts Alliance (MAAA) exhibiting with support from art agencies in Arkansas, Kansas, Missouri, Nebraska, and Oklahoma. The group, which enlisted noted active members Kenneth Adams, Peter Hurd, Gustav Baumann, John Edward Costigan, and Walter Joseph Phillips became one of the largest groups of printmakers founded in the early 20th century reaching around 100 at its peak. The print group's only rival was the Associated American Artists (AAA) that began in 1934, often referred to as "triple-A," which enlisted their noted active members such as Thomas Hart Benton, Edward Hopper, Rockwell Kent, Grant Wood, and Miguel Covarrubias. Interestingly, Doel Reed, Luigi Lucioni, and John Stuart Curry were notable active members of both organizations.
Sandzén Comes to Love the Western Landscape Around Him
Sandzén finds inspiration in the open fields of Kansas. Having come from Sweden, a place with long-established towns, and cities, as well as traditions in painting, printmaking, and classical music, he is in many ways out of his element in this new world. However, the artist adapts and comes to love the raw nature of the plains in the United States. In 1905 the artist took a one-year leave of absence from Bethany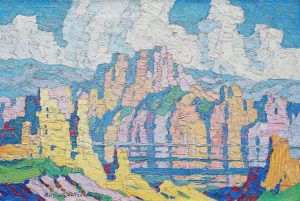 College and traveled to Europe, where he is exposed to the most recent modern art in France. This prompts the artist to become even more individualized in his pursuit of painting. It was after this trip that the artist starts making trips out West to paint. His first trip is in 1908 to visit a friend in Colorado Springs. This trip is the inspiration for future trips out West. In 1913 he began a multitude of trips West to Manitou Springs, Colorado Springs, and Estes Park over three decades. The artist is heavily inspired by the large, rocky formations that are the Rocky Mountains. Starting in 1926 the artist went almost every summer for 15 years to Estes Park due to his fascination with the Rocky Mountains in that area. Sandzén is very particular about his use of color in his paintings of the Rockies. In specific, he only uses five colors on his palette, and it is his opinion that any other color is based on an individual's taste.
Colorado Landscape Oil Paintings by Sandzén are Particularly Valuable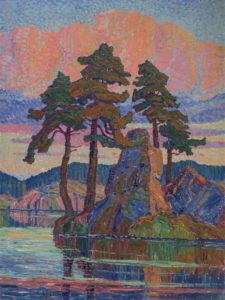 Sandzén's regular visits to Colorado enabled him to paint many scenes during his time here. The artist, who used a boar brush to paint his artworks, would make many great paintings of the mighty landscape that is Colorado. Many of his highest-selling artworks are from the state. In fact, 70% of his top ten sales results are paintings that come from Colorado.
The highest-selling oil painting on record as of 2019 for the artist is "Lake at Sunset, Colorado", 1921 which depicts an open composition body of water with bold reflections (another important element to value) from a large body of clouds in the sky and a small island in the mid-ground of the painting. This small island has large boulders and a series of trees growing on its edge. The background of the image in the lower portion exhibits a solid row of trees along the lake. This painting sold for $670,000, vastly outpacing its modest pre-auction estimate of $300,000 – $500,000 in 2016.
While the second and fourth-highest-selling oil painting by Sandzén is also a Colorado subject, a 2016 sale achieves the fifth-highest-selling oil painting in the auction market. This image, "Near the Timberline, Rocky Mountains, Colorado," painted in 1919, sold for $346,000. Again, this vastly outstrips its pre-auction estimate of $150,000 – $250,000. This image depicts a large group of mountains with a high cliff in the background and aged cedars with boulders in the foreground.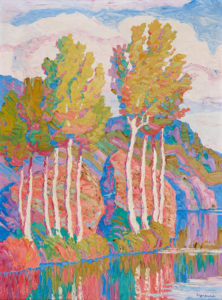 The ninth painting in the top ten is from Colorado. This image is titled "Mountain Nocturne", a Motif from Rocky Mountain National Park, Colorado. This oil painting sold for $230,000, which was in the range of its pre-market estimate of $200,000 – $300,000. This image depicts another body of water scene with a sunset in the background. Three trees rise from the middle of the composition. The tenth painting in the top ten is "Aspens, Rocky Mountain National Park, Colorado". This painting sold for $200,000, which was well above its pre-auction estimate of $120,000 – $160,000.
Sandzén had some of the most valuable paintings to enter the public marketplace in 2011. He also had lesser quality artworks that still sold well. It was stated that 2011 blew past his previous bestselling year in 2006. Sandzén's work found itself being discussed more and more in the media due to its high value. In early 2017, the Denver Art Museum privately acquired a very large oil on canvas called "Mountain Symphony", which Art of Estates has previously performed an art appraisal on before its restoration. While Sandzén painted an estimated 3,000 oil works throughout his career, it is a very specific portion of the paintings that remains the most valuable. A large collection of the artist's best paintings is regularly on view at the Birger Sandzén Memorial Gallery in Lindsborg, Kansas.
Leading Regional & National Art Museums Collect Sandzén
Sandzén is collected by many museums across the United States and Europe. Most notably the National Gallery of Art, Smithsonian Museum of American Art, Brooklyn Museum of Art, Minneapolis Institute of Arts, Nelson-Atkins Museum of Art, Wichita Art Museum, Spencer Museum of Art, Denver Art Museum, and the Dallas Museum of Art. His works have also been acquired and exhibited previously at the Wichita Art Museum, John H. Vanderpool Art Association, Hutchinson Art Center, Colorado Springs Fine Arts Center, Coutts Museum of Art, and the Marianna Kistler Beach Museum of Art.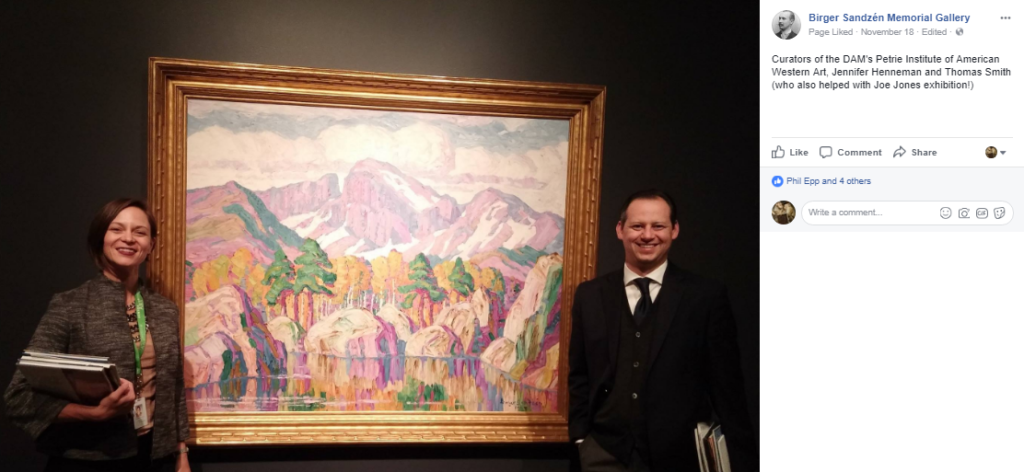 The Artist has Exhibited Extensively throughout America and Europe
Sandzén exhibited extensively around the United States and the world during his career. Some of the venues he was associated with include the National Gallery of Art, the "Second Biennial Exposition of Fine Arts" in Paris, the Nelson-Atkins Museum of Art in Kansas City, the Denver Art Museum, the Wichita Art Museum, the American Pavilion in the 1940 Venice Biennale, and the Colorado Springs Fine Art Center. You can see a small body of Sandzén's work on exhibition from May 3 – July 28, 2019, during the Birger Sandzén: Land of Color exhibit at the Bone Creek Museum of Agrarian Art located in David City, Nebraska.
Are you looking for some art consulting or an appraisal of your Birger Sandzén art? Art of Estates provides comprehensive art appraisal and consulting services regularly across the United States.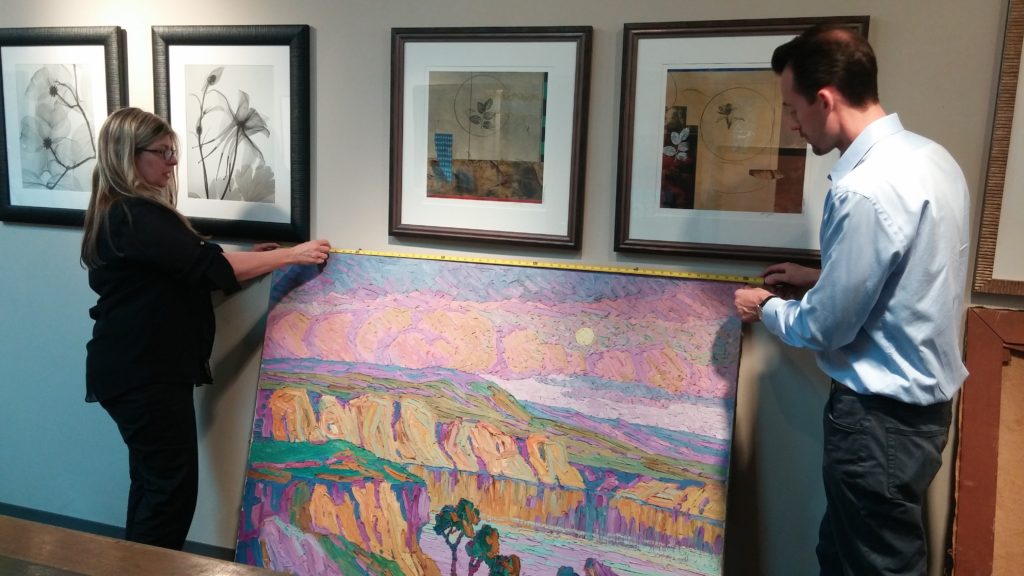 Birger Sven Sandzén
48 x 60 / oil painting on canvas
"Creek at Twilight" 1927
SOLD $516,500 (includes buyer's premium)
auction estimate of $300,000 – $500,000
May 3, 2017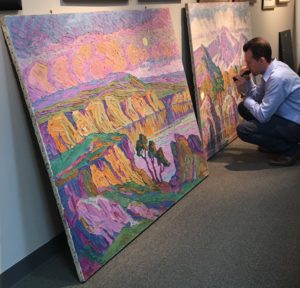 Art of Estates' limiting condition to the rankings of the Top 10 Birger Sandzén oil paintings sold, the previous record holder was sold in 2011. Again, the painting was resold publicly just under four years later purportedly as a forced sale, according to a local Denver Colorado Art Gallery, and was only included once as a Top 10 seller in our analysis, not twice as records indicate. That painting is a Colorado scene painted in 1923 and sold for half the price of its original sale. Our information here is only accurate as of the post date.