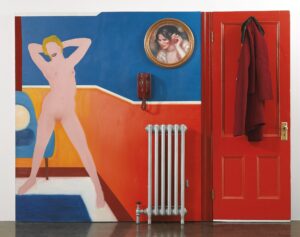 Pop Art was a significant development in the history of American culture in the 1960s and 1970s. Many of the artists who were associated with Pop Art are household names today, Andy Warhol, Roy Lichtenstein, Robert Rauschenberg, and Jasper Johns. This group of artists contributed heavily to the formation of Pop Art into a global movement and exported American culture around the world. Amongst these colossal figures in art history lies an artist from the Midwestern city of Cincinnati. This artist is Tom Wesselmann, and his contributions to art-making are critical to the development of Pop Art and culture as a whole.
Tom Wesselmann Begins his Life in Cincinnati and Has the Original Intention of Becoming a Cartoonist
Tom Wesselmann was born in Cincinnati, Ohio, in 1931, right amid the Great Depression. He would begin his college studies at Hiram College near Cleveland, Ohio, in 1949. He stayed here until 1951, after which he went to the University of Cincinnati to study psychology. Wesselmann was drafted into the U.S. Army in 1953, the same year the Korean War ended. He spent his time in the military in the United States, and it was during this period that he began drawing cartoons. Wesselmann would re-enroll at the University of Cincinnati in 1954 and go on to acquire his bachelor's degree in psychology in 1956. It was soon after this that Wesselmann decided to enroll at the Art Academy of Cincinnati to further his knowledge of cartooning as he intended to begin a career in the field. Upon graduation from the Art Academy of Cincinnati, Wesselmann moved to New York City, where he eventually began his studies at The Cooper Union. It was at this institution that he began focusing heavily on the fine arts, leaving his original intention of becoming a cartoonist. He would receive his diploma in 1959.
Wesselmann Moves to New York City, where he Sees New Ideas and Schools of Art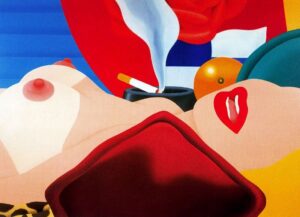 Tom Wesselmann was initially confronted in New York with the violent abstractions of the painters of The New York School, otherwise known as Abstract-Expressionism. Wesselmann would, however, reject the principles of this school in favor of a more traditionalist notion of art centered around the nude, still life, and landscape. With these themes in mind, the artist began creating collages and assemblages.
During the 1960s, the artist had a dream about the colors red, white, and blue, which went on to inspire his series known as the Great American Nude. The images featured a series of figures and themes with patriotic references, such as the founding fathers, along with representations of nude women. The images were aggressively sexualized and focused on women in a highly erotic nature. Wesselmann is later introduced through his friendship with Ivan Karp of Leo Castelli Gallery to Roy Lichtenstein and James Rosenquist. It was during this period that many other artists were beginning to work within the ethos of Pop Art.
Wesselmann Begins Developing His Style and Bodies of Work
Wesselmann would show more sensual imagery during the 1960s in his still-life series. The artist would begin his Mouth series in 1965. In this series, Wesselmann focuses explicitly on the mouth, which is rendered with red lipstick. This series would transition into the Smoker Study series, in which a mouth with a lit cigarette would be made. The artist would also begin rendering his Drop-Out series in which a composition is created from the negative space around a woman's breast. His work then transitioned into the Bedroom Painting series. In this set of artworks, Wesselmann would focus on scenes in the bedroom. The artist continued with his themes of sensuality for the rest of his life. Wesselmann would ultimately finish The Great American Nude series in 1973.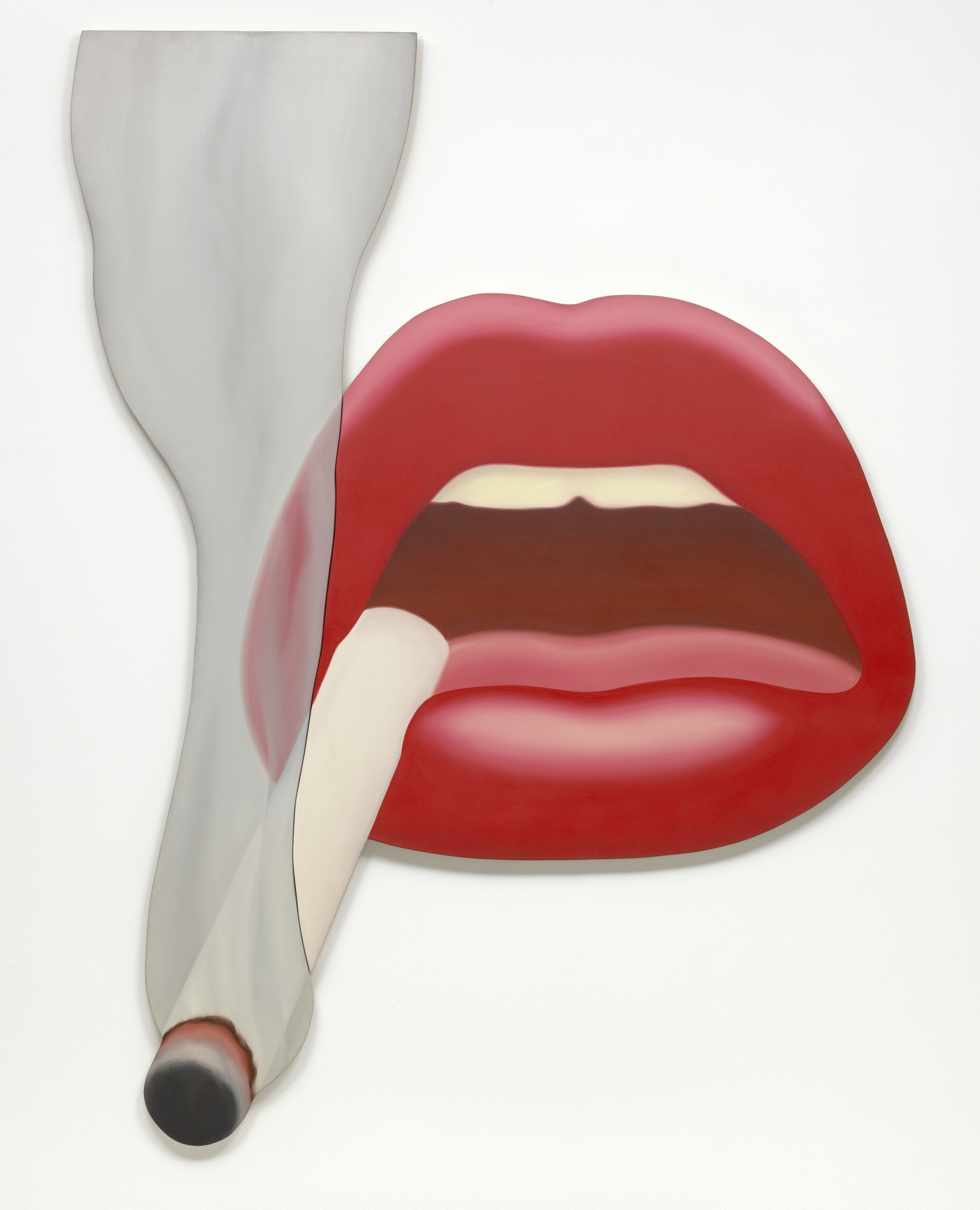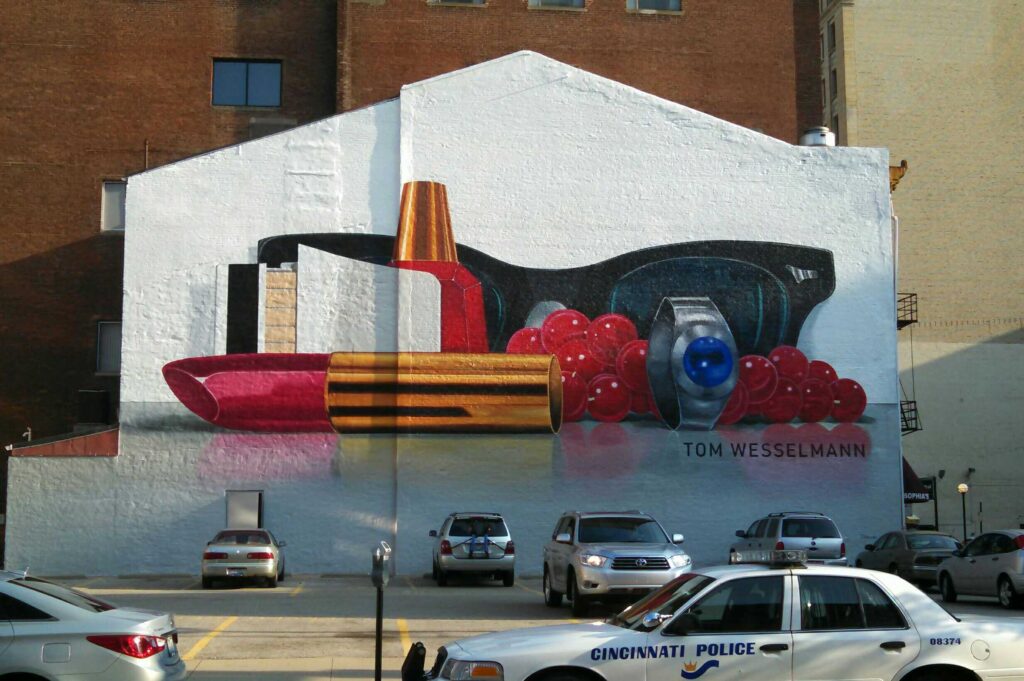 ArtWorks Cincinnati Brought a Piece of Tom Wesselmann Back Home with a Mural in 2014
Wesselmann is also known in his hometown of Cincinnati through a large-scale mural done by the local company ArtWorks. ArtWorks has been working with the local community in Cincinnati since 1996 in developing public art projects for Queen City. The company has hired over 3,300 teens and 2,900 professional artists since its beginning in the city. They have also completed over 12,000 public and private projects. Tom Wesselmann received mention through ArtWorks in Cincinnati with a mural done at 811 Main Street in downtown Cincinnati. The painting depicts Still Life #60 and is a total of 122 x 333 x 87 inches. The project was led by Joe Hedges and included Josh Mindlin and Nicole Trimble as teaching artists. The mural was completed in 2014. The painting depicts a pair of sunglasses, nail polish, lipstick, and a ring. These oversized items are juxtaposed against a white wall on the side of the building.
Wesselmann's Market is Stable and has been Gaining Ground Since the 2008 Recession
Wesselmann's market is active and makes a significant contribution to the overall worth of Pop Art as a whole. According to AskArt, the artist is in the top 100 of all artists in terms of auction value per square inch. Among the artist's top ten artworks sold at auction since 2010, his Great American Nude series dominates, with seven of the ten being from this series. These include Great American Nude #44, Great American Nude #21, Great American Nude #34, Great American Nude #49, Great American Nude #31, Great American Nude #51, and Great American Nude #42.
The prices of these artworks range from about two and a half million to four million dollars. The most expensive Great American Nude piece is Great American Nude #44. Wesselmann created this in a period when his paintings were attaining a colossal size, a significant detraction from the manageable sizes of his initial artworks. The work features a real, life-sized door with a coat attached to it, as well as a radiator and telephone. As is typical of the Great American Nude series, an undressed woman takes a central role in the overall composition. In this case, the woman is standing with her legs spread apart, and her elbows raised with her arms behind her head. The model for this work was none other than Wesselmann's newly married wife, Claire Selley. The overall size of the work is a whopping 81 x 105 x 12.5 inches.
Wesselmann's Market Peaked in 2008 Before the Recession
According to graphs and auction results on AskArt:
Wesselmann's auction market peaked in 2008 directly before The Great Recession.

In 2008 Wesselmann's total auction sales were more than $46,000,000.
Tom Wesselmann's markets' strongest moment was this period from 2007 to 2008, directly before the Great Recession, when 7 of the 10 highest-grossing artworks ever to sell at auction by the artist passed through auction. These seven artworks ranged in value from $3,000,000 to $10,500,000.
From February 15, 2011, to June 27, 2019, many equally great artworks have come up for sale, although no individual piece has surpassed $4,800,000 in value.
In 2009 Wesselmann's total auction sales dropped to less than $6,300,000 in total.
Wesselmann's total yearly market sales fluctuated between $7,900,000 and $21,000,000 from 2010 to 2019.
Wesselmann's total yearly auction market sales reached a high point in terms of the post-recession period both in 2013 with over $18,000,000 and 2017 with over $20,000,000.
In 2008, before the Great Recession, saw a peak for the artist's average sale per auction lot sitting at more than $640,000.
After the Great Recession, in 2009, Wesselmann's market saw an average sale per lot drop to below $120,000.
In terms of artworks sold per year, Wesselmann's market can be characterized as good since historically, 73% of his artworks sell that pass-through auctions. As a counterpoint, Andy Warhol has a historical sell rate of 70%. The 2007 market high saw 102 Wesselmann artworks sold versus 17 unsold. 2012 saw 74 artworks sold versus 30 unsold. 2014 saw 78 sold versus 38 unsold. Overall while the artist's market has suffered since the recession, even though his art yields less than in 2007 and 2008, this does not mean that his overall market is not valuable, as many of his works still garner millions of dollars post-recession. We have yet to see where Covid19 may leave his art market.
Other Works by Wesselmann Besides The Great American Nude Feature Strong Auction Results
During the recession, Alice Walton was a heavy purchaser in the art market. She was making waves and rumors of her purchases were well-known in the art dealer world. These purchases were being made for the Crystal Bridges Museum of American Art, located in Bentonville, Arkansas, which opened on November 11, 2011. One of the paintings the Walmart heiress acquired was titled Smoker #9. A 1973 oil and Liquitex gesso on linen sold for a whopping $6,761,000 on May 13, 2008. The most ever paid for a painting from this series, but an exceptional no doubt. This may have led the way for other purchasers since then to follow suit.
Wesselmann's highest-selling piece from 2017 to the present was an artwork within his Smoker's Study series, specifically Smoker #5 (Mouth #19). This oil painting sold for $4,708,600. Clearly, Wesselmann's Mouth and Smoker Study series makes a noticeable impact on the artist's top-selling paintings at auction. Four of the top twenty-five pieces sold at auction since 2010 have been either a rendition of a mouth or a mouth with a cigarette, showing the strength of this series in the auction market.
Wesselmann's Contributions to Art History are Significant and will Surely Stand the Test of Time
Wesselmann remains an important artist in the Pop Art movement and is seen as a hometown hero of the art world in Cincinnati, Ohio. Acquiring the artist's works adds a touch of flair to any collection. The artist's estate is currently managed exclusively by Larry Gagosian and Almine Rech, but many of his artworks can be found in other art galleries. Additionally, many of Wesselmann's works can be used in the acquisition of an art loan based on his consistent high market value. If you or a family member have a Tom Wesselmann in your possession and would like a fair market value appraisal or an insurance coverage appraisal, contact Art of Estates so we can provide a discreet and professional certified appraisal service based on your needs.